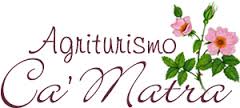 27/5/2015 11:00:00
The Ca' Matra Farm House, located in "Alta Valle del Tevere", mainly cultivates cereals and fodder.

The vineyard, the orchard and the vegetable garden are organically cultivated and they constitute the excellence of the agricultural production.
Azienda Agrobiologica Ca' Matra has been producing for years IGT Wines only (Typical Geographical Indication).
The autochthonous Umbrian wine varieties are cultivated in the lands where "Plinio il Giovane" had already planted his vineyard in Roman times.
The grapes are harvested by hand and squeezed with a wooden wine press following the peasant tradition.


GRECHETTO CA' MATRA
Vinified in purity from Grechetto grapes, it is delicately fruity, slightly acidulous with a bitter aftertaste.
Excellent aperitif. It goes well with appetizers, legume soups, white meats and fish.
Serve at 12°C.
This wine can give rise to natural deposits as filtration has been deliberately reduced.


ROSSO PLINIUM
The Sangiovese, Merlot and Cabernet Sauvignon grapes are carefully selected before being vinified. Then follows the aging in barriques for 12 months.
Ruby red wine with a dry, robust and harmonious flavor, rightly tannic.