Services available to the guests
As guests of our farmhouse, you will be offered the following services: the swimming pool, the barbecue, the wood-fire oven and the laundry room. In addition, you can freely enjoy the beautiful garden that surrounds the buildings.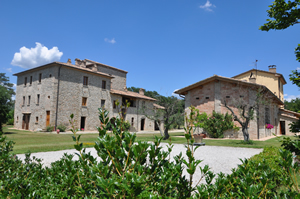 The garden was designed to harmonize with the older buildings, so even just taking a walk around it will be a charming experience.

Walking through the garden can lead you to find captivating corners, that your nature-loving eye will surely appreciate.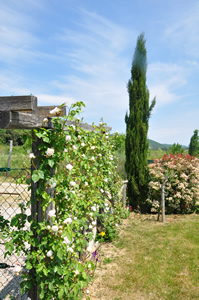 The rose garden is made up of various kinds of roses that generate a beautiful mix of colours and scents.

The roses have been gradually introduced into the environment, and are taken care of by the owner of the farmhouse, Olivo, who knows the names of all the different species of roses as well as their place of origin. Some of the roses have been "adopted" from people who wanted to get rid of them, some were grown from a scion, some have always been there and others have been bought from specialised plant nurseries. The most common kind of rose in our garden is the dog rose, a wild rose that grows spontaneously, in many different colours.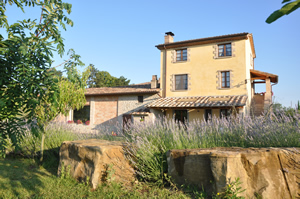 The lavender garden appears in all seasons as a uniquely coloured spot. Its scent makes the hot summer days pleasant, and approaching it means discovering a beautiful world of bees, wasps and other insects.

Like the lavender, the hedges (viburnum, arbutus, verbena, laurel, elder, pomegranate, osmanthus, jujube) enrich the environment with their colours and, by encircling the farmhouse, create a certain atmosphere of intimacy with the place and with one self.

The fruits of the raspberry and blackberry bushes can be enjoyed by the guests during most of the summer.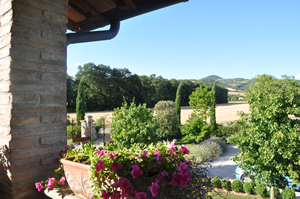 The windows of our farmhouse literally open onto a palette of colours that make Umbria such a beautiful region so it is very difficult to choose the most beautiful sight among those offered by the natural environment of the High Tiber Valley.

Enjoying the landscape from the farmhouse is always a delightful experience thanks to its position; its proximity to the little town of Selci-Lama and its setting in the natural green environment. You can admire what's close, or look around and enjoy the view of the medieval towns that rest on the surrounding hills.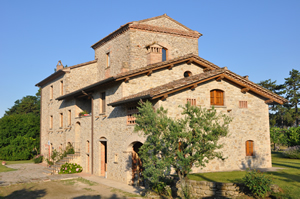 In fact, right when you look outside you realize the farmhouse used to be an observation tower.

At first, you might be taken aback and wonder "Why did they build an observation tower right here, in such a flat area?", but as soon as you look outside and admire the beauty of the place, you will stop wondering.
Trips and sports at farmhouse Ca'Matra:
In the surroundings of our farmhouse it is possible to:


- Organize trips in the woods of the Apennines (Hiking, mountain biking, horseriding)
- Fish at the little lake of Cospaia, or in the Tiber River.
- Sail and windsurf on lake Montedoglio.
- Play golf at Club Caldese