Mountain biking trips in the High Tiber Valley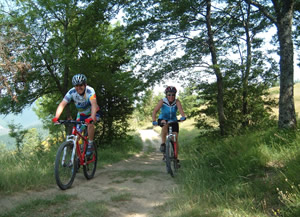 At our farmhouse, we organize mountain bike trips. They are suitable for the entire family; and can vary in length and difficulty (easy – medium – difficult) according to your request.
All the trips are guided by Giovanni Czortek, a mountain bike instructor who will assist and give you advice along the way. He will satisfy the curiosity of all mountain bike enthusiasts.
The natural environment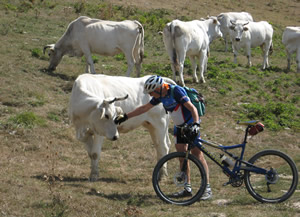 The trips allow the participants to discover everything the High Tiber Valley has to offer; beautiful landscapes of all kinds: rivers, dams, hills, plains and, of course, mountains.

The Alpe della Luna (The Moon Alp) reserve is particularly fascinating. It is located in southern Tuscany, not far from our farmhouse, and it gives its visitors the chance to appreciate the majesty of the beeches, oaks and hornbeams, as well as to meet the inhabitants of the woods such as squirrels, fallow deer and pheasants. When visiting the Alpe della Luna reserve, your glance will be captivated by the beautiful, stunning sights that it offers. It will be un-forgettable.

The itineraries give you the chance to enjoy the historical and artistic heritage of the area, taking you to fascinating old towns where the past can still be felt, and you will have the chance to taste dishes prepared with first-class ingredients by skilled cooks.
The Tiber Itinerary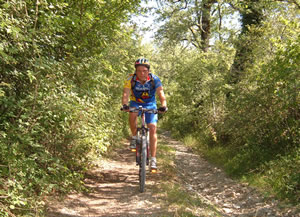 This itinerary develops along the banks of the Tiber River which marks the border of the two municipalities of Sansepolcro (the birthplace of Piero Della Francesca) and Anghiari (One of the most beautiful medieval towns in Italy). There you will be guided through the plains of the High Tiber Valley, surrounded by vegetation typical of river environments.

The path is mostly flat, and only in one point, when crossing the Tiber River, will you encounter some small soil dunes. During the trip, you will have the chance to enjoy the beautiful landscapes where the valley is embraced by the Apennines (Alpe della Luna 1454m) on the east, and by the hills on the west that mark the border between Tuscany and Umbria (where the medieval towns of Anghiari and Citerna rest).

The itinerary will also take you to the ruins of the Montedoglio Castle, to the dam on lake Montedoglio, to Viaio (a town where the craft of wicker working has been passed down for generations inside the Luzzi family), and to the medieval town of Santa Croce, whose most interesting feature is its unique church.
Click to discover the 1st Mountain-Bike Trips

Click to discover the 2nd Mountain-Bike Trips