The Garden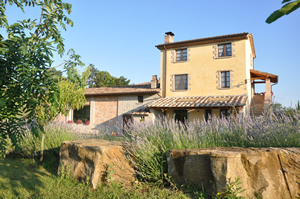 Our garden offers several, lovely sceneries:

- A glimpse of the Iris that, unfortunately, can be admired for only a few days.

- The walnut tree. The tree belonged to the original building and, in addition to bearing fruit, it gives shelter from the wind to all the guests that want to sit beneath it to admire the surrounding hills and our vegetable garden.

- The oak tree. Its impressive size and its foliage seem to invite the guests to sit underneath it.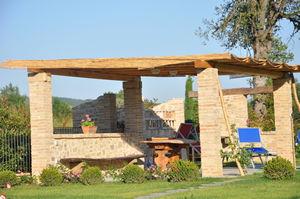 - The pergola. The large leaves of the pergola shield all those who sit underneath it from the sun, offering them the perfect spot to enjoy the surrounding landscape. In autumn, the pergola is enriched by the growing grapes.

- The wash-house is a magical spot, its story is lost in time. It is rare to come across one of these basins in a home, as in the old times people used to go by the river to do their laundry. Nonetheless, at our farmhouse this big basin used to store the water that flowed from the ditch and fueled the mill, and it was sometimes used as a drinking trough for animals. Now it is surrounded by rosemary, and even if you can no longer hear the voices of the women doing the laundry and the frogs croaking, you can still enjoy the sound of the flowing water as you stroll next to it.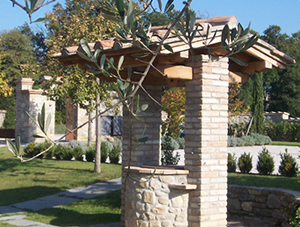 - The well, despite being recent, looks as if it has always been there thanks to the pulley with the bucket, and its roof, made of wood and roof tiles recuperated from old homes. The wall surrounding it makes it the ideal place to chat or just enjoy the garden.

- The cherry tree is in a somewhat hidden spot, but its size, age and fruits make sure you will notice it. Under its foliage thrives a natural garden where tiny flowers grow. Spending time underneath the cherry tree listening to the birds chirping is an amazing experience.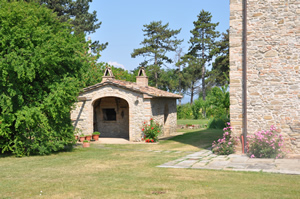 - The stones of the wood-fire oven, blackened by smoke, take the imagination back to the times when it was often fired up and you could smell all kinds of scents just by passing by it. Nowadays, we use it for parties and for the guests who want to learn how to bake bread or cook desserts, pizza and roasted meat. It takes effort, but the outcome is worth it.

- The barbecue is located in the same outbuilding as the wood-fired oven. It is used throughout the year to grill vegetables and meat.