Apartments and Rooms at the Ca' Matra Farmhouse
Three comfortable, spacious apartments are available at our farmhouse in Umbria.
Each one of them is composed of a kitchen, a living room, two bedrooms and a bathroom (all bathrooms are equipped with a shower). In addition, we also have two more rooms to be reserved individually, for the guests who do not intend to reserve an entire apartment.


Pomodoro Apartment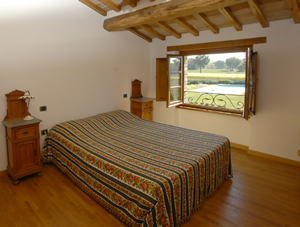 The entrance to the Pomodoro (tomato) apartment is through the external loggia.
The apartment is divided into two floors. Upon entering, the guests are welcomed by the spacious, bright and very well equipped living room and by its kitchenette, which is also connected to the bathroom overlooking the swimming pool.

From the living room, the wooden stairs lead to the two bedrooms. The first bedroom is big and comfortable, and is equipped with a double bed.
It is decorated by a hand-painted closet and its two windows offer a beautiful sight of the garden and the surrounding hills. The other bedroom is smaller, yet cozy, and is equipped with two single beds that can be joined to be used as a double bed.


Carota Apartment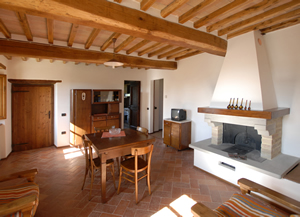 The Carota (carrot) apartment is situated on the first floor of the farmhouse. Once inside, the guests are presented with the living room and its fireplace and sofas. The apartment's kitchen is made of oak, and overlooks the wood-fire oven and the vineyard.

The bathroom is decorated with brown tiles, and the two bedrooms recall the rustic style of old farmhouses.

Like the ones in the Pomodoro apartment, one bedroom has a double bed, whereas the other one has two single beds that can be joined to be used as a double bed.


Melanzana Apartment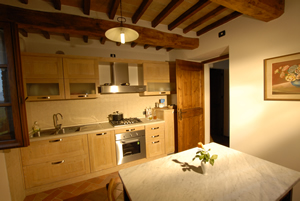 The Melanzana (aubergine) apartment is reached by climbing the stairs of the loggia.

This apartment is composed of a living room with a kitchenette, a bathroom and two bedrooms. The ceilings of the bedrooms are made of wood, and one of them slops, making the bedroom especially cozy.

The flooring of this apartment was made using old tiles and oakwood.